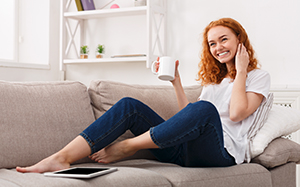 Sinnissippi Supervised Apartments
Sinnissippi Centers' apartments are operated to provide individuals with a serious mental illness the opportunity to develop skills that will enable them to live a more independent lifestyle. Residents in these rent subsidized apartments must meet certain criteria, including:
Diagnosed with serious mental illness
Require a supervised living environment
Medicaid coverage
Interested in improving living skills
Meet certain income restrictions
Compliance with medications
Agreeable to abiding by the house rules set by the staff and residents
IQ 70 or higher
Must pass a criminal background check
WHAT ARE THE APARTMENTS LIKE?
Each one-bedroom apartment has a kitchen/dining area, a living room, one bedroom, and a bathroom. Utilities are included in the monthly subsidized rent. Except for a stove and a refrigerator, the apartments are unfurnished. Laundry facilities are located on site. A large shared community room is also available to residents for get-togethers and includes a kitchen, table, couches, and a TV for residents' use.
WHERE ARE THEY LOCATED?
Rochelle – Fairview Apartments
Fairview Apartments are located on the north side of Rochelle close to grocery stores, restaurants, retail and banking resources. It is an in-town location with easy access to the walking/bike trail.
---
Dixon – Parks Place Apartments
Parks Place apartments are located on Depot Avenue in a residential area with easy access to shopping areas, the YMCA and post office. Parks are located nearby along the Rock River, including the 240 acre Lowell Park. There are many recreational facilities providing convenient access for sporting or leisure activities.
---
Sterling – Sterling Apartments
Sterling apartments are located north of downtown and provide easy access to the YMCA, restaurants and shopping. In addition, Sterling is home to a regional hospital as well as several clinics, dental offices, chiropractic services and behavioral health centers to meet the health needs of the community.
---
Mt. Carroll – Sullivan Apartments
Sullivan apartments are located in Mt. Carroll just 11 miles east of the Mississippi River on a picturesque site from which one has a view of the rolling hills and farm fields for miles.
---
FOR MORE INFORMATION ON SINNISSIPPI'S RESIDENTIAL SERVICES
To Check on apartment AVAILABILITY click here
To view our BROCHURE click here
To download a copy of the apartment APPLICATION click here
Prospective Tenant Information click here
(you must have Adobe Reader installed or other pdf reader installed to view these files)
You may also contact the Sinnissippi Centers' Apartment location nearest you
Fairview Apartments, Rochelle
555 Fairview Dr.
Rochelle, IL 61068
815-561-9003
Parks Place Apartments, Dixon
322 Depot Ave.
Dixon, IL 61021
815-288-6057
Sterling Apartments, Sterling
2104 E. 23rd St.
Sterling, IL 61081
815-622-0938
Sullivan Apartments, Mt. Carroll
1126 Healthcare Dr.
Mt. Carroll, IL 61053
815-244-4200
EMAIL: apts@sinnissippi.com
Funding for Sinnissippi Centers' Supervised Apartments provided in whole, or in part, by the Illinois Department of Human Services and the U.S. Department of Housing and Urban Development
Sinnissippi Centers' Apartments are a smoke-free environment
All qualified applicants will receive consideration without regard to race, ethnicity, or religion.