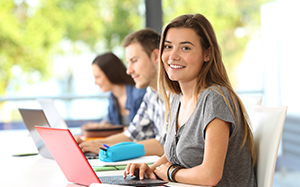 Interested in completing your internship with Sinnissippi Centers? We'd love to meet you!
Sinnissippi partners with a number of colleges and universities in order that students can obtain their required internship hours. Interns at Sinnissippi Centers receive a well-rounded experience inclusive of a variety of populations and treatment modalities. If you are interested in completing your internship at Sinnissippi Centers, please review the guidelines below.
To apply for an internship opportunity with Sinnissippi Centers, please submit a resume and a cover letter which includes the following information:
College/University name
Internship start and end dates (approximate is fine)
Number of hours required per week
Any schedule restrictions that you may have (i.e. internship hours limited to Tuesdays and Fridays)
Preferred office location
Preferred population with which you would like to focus your internship
Required credentials of supervisor
If there are any other elements of your internship that may need to be taken into account, please include that in your letter.
Sinnissippi accepts internship inquiries up to a year in advance of the internship start date. We currently partner with the following schools. (If you don't see your school listed, please contact your field placement office to see if Sinnissippi may be an option for you.)
Aurora University
Capella University
National Louis University
Northern Illinois University
Northwestern University
Regent University
Sauk Valley Community College
St. Ambrose University
University of Illinois
University of Southern California
Western Illinois University
By Email (preferred)
If you have further questions, please contact Sinnissippi's HR Department:
325 Illinois Route 2
Dixon, Illinois 61021
(815) 284-6611

Joint Commission accredited/drug free/EOE