(Dixon, IL) On Wednesday, October 16, 2013, Sinnissippi Centers broke ground on an expansion project at the agency's Dixon office.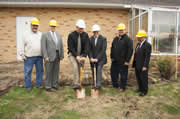 The 3,000 square foot addition is being built to more adequately serve the needs of individuals with a mental illness, substance use disorder or other behavioral healthcare needs. It will add 10 – 12 offices and update the Skill Mill, a workshop that offers vocational skills training and employment opportunities for individuals with a mental illness by providing various services to local manufacturers and businesses.
"Currently, space at our Dixon office is at a real premium," says Patrick Phelan, Sinnissippi Centers President/CEO. "Some offices currently house two or more staff members and we needed to increase the available office space to alleviate this problem and to meet the increasing need for services we continue to see. Once completed, the expansion will allow Sinnissippi to provide the best possible environment for our clients," adds Phelan.
The Dixon office expansion project has been in the planning stages for over a year. Construction will continue through the fall with an anticipated completion date in April 2014.